Kurs
Course weekend with YOMA, Polstjärnepriset and Kungliga Musikhögskolan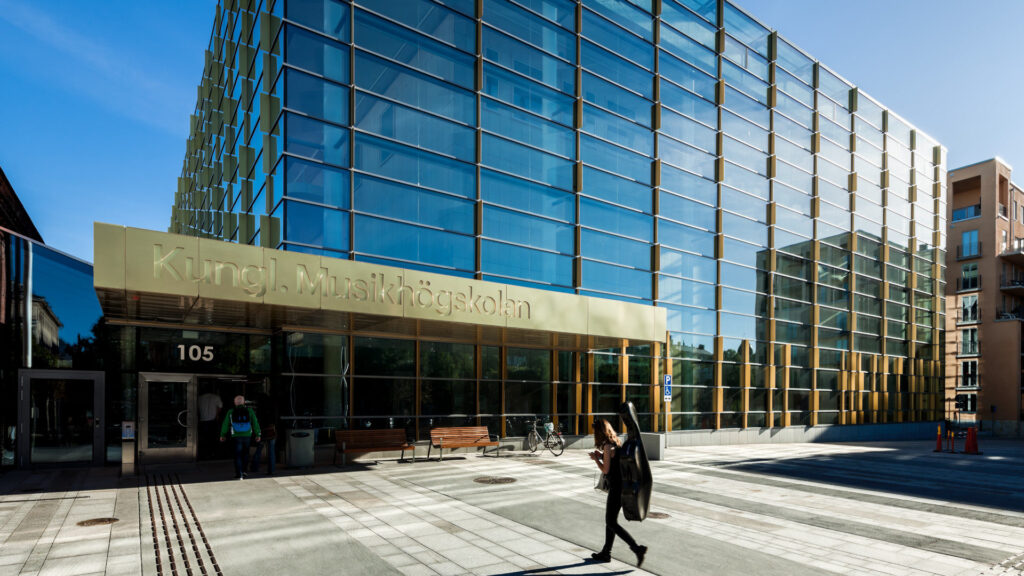 For 10-19 year olds and instrumental instructors.
The course is given 1-2 April on site at KMH in Stockholm and in some parts online and welcomes you who play wind, percussion or string instruments. If you are an instrumental instructor, you are welcome to accompany your own students or to observe the course for yourself.
The course is organised in collaboration with cultural schools and advanced education programmes in the Stockholm region and Stockholms Ungdomssymfoniorkester and is aimed not only at those who live in Stockholm but also at those in the rest of the country and the entire Nordic region.
YOMA stands for Young Musicians Academy and, like Polstjärnepriset, is part of the Swedish National centre for music talents, where 8 of the country's orchestras and all music colleges are involved.
When selecting participants for the course, priority is given to those who come from
YOMA's Open Programme or Talent Programme
Recent or previous Polstjärnepriset competitions and courses
In-depth programmes and similar at the Stockholm region's cultural schools
Top-level programmes in Stockholm, the whole country and the rest of the Nordic region
You may choose to participate for one lesson or a whole day or even two days (two days subject to availability). You get an individual lesson, a group lesson and the opportunity for ensemble playing every day. We also have room for those who do not want to play but visit the course to get to know YOMA, Polstjärnepriset and the Royal College of Music in Stockholm.
If you participate online, you can also visit other people's lessons and the streamed concert online.
The course also brings together musicians from the Polstjärnepriset Symphony Orchestra to rehearse for their concert at the Baltic Sea Festival, including Brahms' 4th Symphony conducted by Esa-Pekka Salonen.
All YOMA courses are free of charge. You organise your own food and accommodation. For accommodation, we recommend STF's Hostel and Hotel Zinkensdamm, which are on the same metro line as the Royal College of Music.
If you play oboe, bassoon, French horn, viola or double bass and participate in Stockholm, we will pay for your travel if you live more than 300 kilometres from Stockholm.
We have extensive experience in online teaching and will help you with the technology if you want to participate online.
Info and registration
The course is held on Saturday at 12-19 and Sunday at 9-16. The course ends with a concert in Kungasalen on Sunday at 15. Please register as soon as possible, but no later than 22 March. We take participants in order of registration until the places are filled. You increase your chances of being admitted if you send a link to a recording, if you are not already known to us. Your admission for online participation is valid only when you have sent the scores/sheet music of your individual lessons as an attached pdf file (no link) by email to gunilla.wretemark@yomacenter.se by the last day of registration.
Instructors, IRL and online (more instructors will be added)
Alf-Richard Kraggerud, violin (Barratt Due Musikkinstitutt, Oslo)
Andreas Patrik Hansson, conducting (YOMA and Polstjärnepriset)
Bengt Rosengren, oboe (Kungliga Musikhögskolan, Stockholm)
Björn Olsson, French horn (Kungliga Musikhögskolan, Stockholm)
Cecilia Zilliacus, violin (Kungliga Musikhögskolan, Stockholm)
Ellen Nisbeth, violin and viola (Kungliga Musikhögskolan, Stockholm)
Göran Fröst, viola (Kungliga Musikhögskolan, Stockholm)
Michael Karlsson, double bass (Kungliga Musikhögskolan, Stockholm)
Håkan Björkman, trombone (Kungliga Musikhögskolan, Stockholm)
Joakim Anterot, percussion (Kungliga Musikhögskolan, Stockholm)
Johannes Rostamo, cello (Kungliga Musikhögskolan, Stockholm)
Julia Kretz-Larsson, violin (Kungliga Musikhögskolan, Stockholm)
Kristoffer Dolatko, violin, online (Chetham´s School of Music, Manchester)
Steven Svensson, viola (Kungliga Musikhögskolan, Stockholm)
Tobias Carron, flute (Kungliga Musikhögskolan, Stockholm)
Ulrich Kaatz
Direktör och konstnärlig pedagogisk ledare