Polstjärnepriset Nordic Edition 2023
The first Nordic edition of Polstjärnepriset was a great success! Here you can read and watch a summary to experience or relive this fantastic week.
From January 2nd to January 6th 2023, young musicians from all Nordic countries came together to learn and make music together. Soon, Vänersborg (Sweden) was filled with beautiful melodies, a variety of languages and new friendships. 21 young musicians participated in the Polstjärnepriset competition. Here you can find all the talented musicians from all the Nordic countries.
Semifinal – January 3rd
On the first day of the competition, eight of the most promising young soloist were selected by our Nordic jury to compete in the semifinal. Watch the semifinal here! Also be sure to watch the livestream of some of the lessons and meet the instructors at the competition and the course.
Selma Christensen Teilmann, Denmark (violin)
Valdemar Wenzel Most, Denmark (piano)
Pekko Aakko, Finland (bassoon)
Matthildur Traustadóttir, Iceland (violin)
Clara Yuna Friedensburg, Norway (cello)
Daniel Iourtchik, Sweden (violin)
Sara Hagman, Sweden (violin)
Inez Karlsson, Sweden (cello)
Chamber concert – January 4th
Apart from competing against each other, there was also room for making music together and having fun. On the evening of the 4th of January, many of the 24 competitors showed off their skills alone or together in a chamber concert. Watch it here! And don't forget to check out the livestream of some of the lessons that day.
Final – January 6th
From this group of fantastic musicians, four were chosen to go through to the final of Polstjärnepriset 2023. This concert was held at Gothenburg Concert Hall, and the main hall, Stora Salen, was filled with family, friends and those interested.
The talented finalists performed their chosen pieces together with Gothenburg Symphony Orchestra, to which the whole audience listened breathlessly. Be sure to watch the finalists' performances here: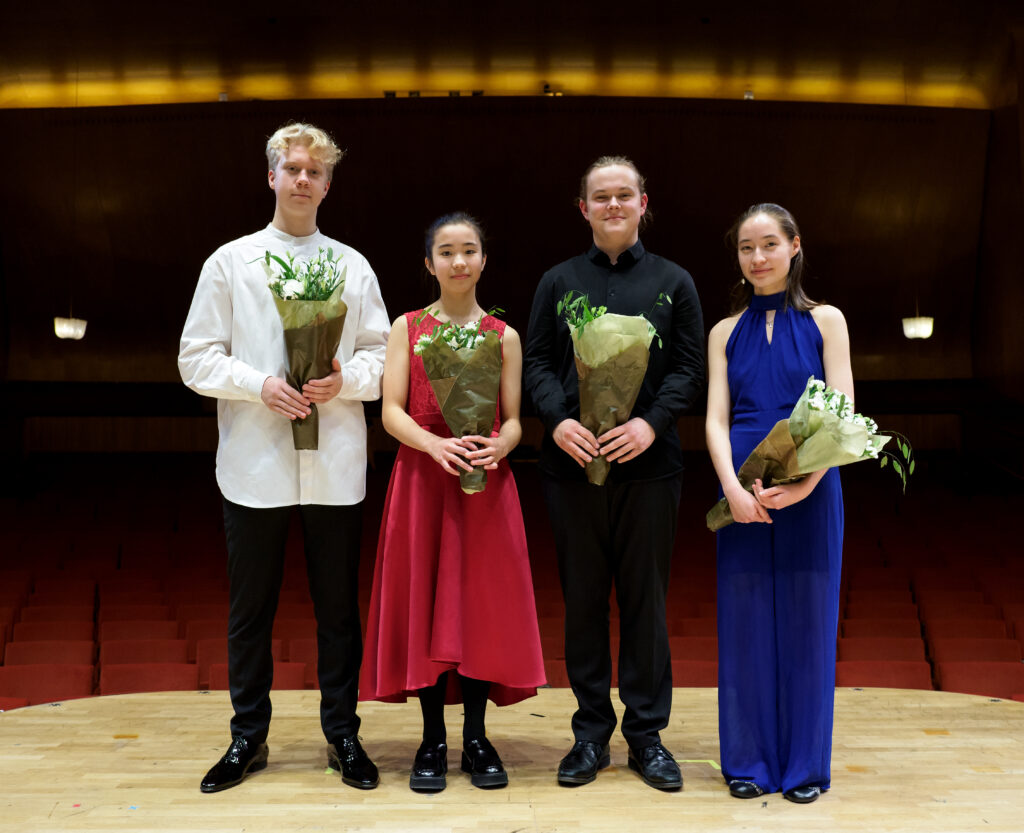 After the performances, the Nordic jury was tasked with making the difficult decision on who would become the winner of Polstjärnepriset 2023. In the meantime, our very own Polstjärnepriset Symphony Orchestra performed together with Gothenburg Symphony Orchestra and conductor Andreas Patrik Hansson. The audience was treated to a fantastic rendition of the 4th movement of Brahms' Symphony No. 4.
The moment we'd all been waiting for: Sten Cranner, head of the jury, came on stage to award the finalists with their prices. He announced the winner of Polstjärnepriset 2023: Inez Karlsson!
"An elegant musician with an extreme focus and a wonderful sound, with a strong and obvious presence – reaching out to the audience. A young musician that can go wherever she wants with her talent."
1st place (50 000 SEK): Inez Karlsson
2nd place (10 000 SEK): Pekko Aakko
3rd place (5 000 SEK): Valdemar Wenzel Most
4th place (5 000 SEK): Clara Yuna Friedensburg
A big thank you to all finalists, competitors and participants of Polstjärnepriset 2023 for making it such a great succes!